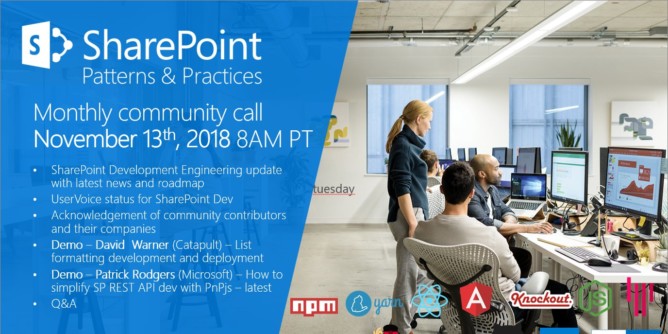 PnP Microsoft Community Call Highlights
SPFx November Updates:
Monthly Statistics and Community Contributors recognition
SPFx v1.7 AVAILABLE!!!!!!

Domain-Isolated Web Parts (Preview)
Dynamic Data GA
SPFx Components in Teams
Supporting Provider Hosted Solutions
Support for React 16
SharePoint 2019 support in Yeoman packages
List Subscriptions (Preview)
Teams Integration (Preview)
"App Pages" (Preview)

Numerous UI improvements – Theming, Site Design & Site Scripts, additional place holders, etc.
Community Call YouTube Recording from Microsoft will be added when uploaded by MSFT.
Demo: List formatting development and deployment – David Warner
Demo: How to simplify SP REST API dev with PnPjs – Patrick Rodgers (Microsoft)