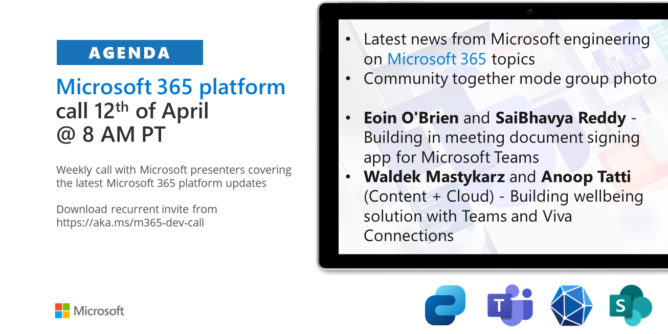 Microsoft 365 Platform
Call Highlights
SharePoint Quicklinks:
—–
PnP Sharing Is Caring:

PnP initiative that provides live hands-on sessions to help with contribution guidance and using PnP resources.
The session types will include First Time Contributor, Community Docs Contributions, SPFx Contributions, Office365 CLI Contributions, AMA (Ask Me Anything) Open Forum sessions and MORE.
—–
—–
PnP Projects

Reusable Controls
Yo Teams
PnP Sharing Is Caring: Hands-on sessions providing guidance for PnP Contributions
—–
—–
DEMOS:
Eoin O'Brien and SaiBhavya Reddy – Building in meeting document signing app for Microsoft Teams
—–
—–
It is HIGHLY encouraged to also watch the recording of the PnP Community Call recording to benefit the most.
Community Call YouTube Recording from Microsoft will be available when uploaded by Microsoft.
Eoin O'Brien and SaiBhavya Reddy – Building in meeting document signing app for Microsoft Teams
Waldek Mastykarz and Anoop Tatti (Content + Cloud) – Building wellbeing solution with Teams and Viva Connections