Original March 2020 Post:
As the global realities of Covid-19 set in and we find lifestyle changes forced upon us, adjustments will become necessary.
Those adjustments, while possibly uncomfortable to adjust to, can become opportunities to help and brighten the day of others.
To help in a small way, I'm beginning my M365.Social "Comfort in a Cup Campaign".
For the remainder of March (perhaps longer), each day I will randomly select one of my M365Social community family & friends and buy them some "Comfort in a Cup".
Each morning I will announce the randomly selected friend on Twitter, reach out to that recipient, and provide instructions on how to choose their desired merchant.
My goals with this campaign:
Promote virtual ‪collaboration, conversation & compassion‬.
With fewer people traveling, less money is being spent. While I don't expect my cup-per-day purchase will improve the overall economy, I'm trying to creatively support the global economy in a way that also benefits others.
Not everyone is comfortable with the WFH model and can find themselves needing a reminder to take time to relax and recharge.
How can I do something similar?
If you are considering doing something similar and would like some guidance, I've outlined below how I am accomplishing this campaign.
Comfort in a Cup Campaign Process
Bonus Tip:
As many of our in-person events have been canceled for the near future, no doubt everyone is going to feel a degree of withdrawal and longing to spend time with their community friends.
Ask the recipient if they would like to join you when they enjoy their "Comfort in a Cup". Schedule a virtual meeting within Microsoft Teams and spend a little time chatting and connecting as you would around the coffee pot's and water coolers in the office.
2020 Comfort in a Cup Recipients
Comfort in a Cup Campaign Process
Step 1: Excel file with Community Friends
I already have an Excel worksheet with all of my M365.Social community friends listed.

Step 2: Excel Random Formula
Using an Excel formula, I randomly select a community friend each day.

Step 3: Announce the Recipient
Using Twitter, announce the recipient and send them a DM with instructions on how to select a merchant using Office Forms.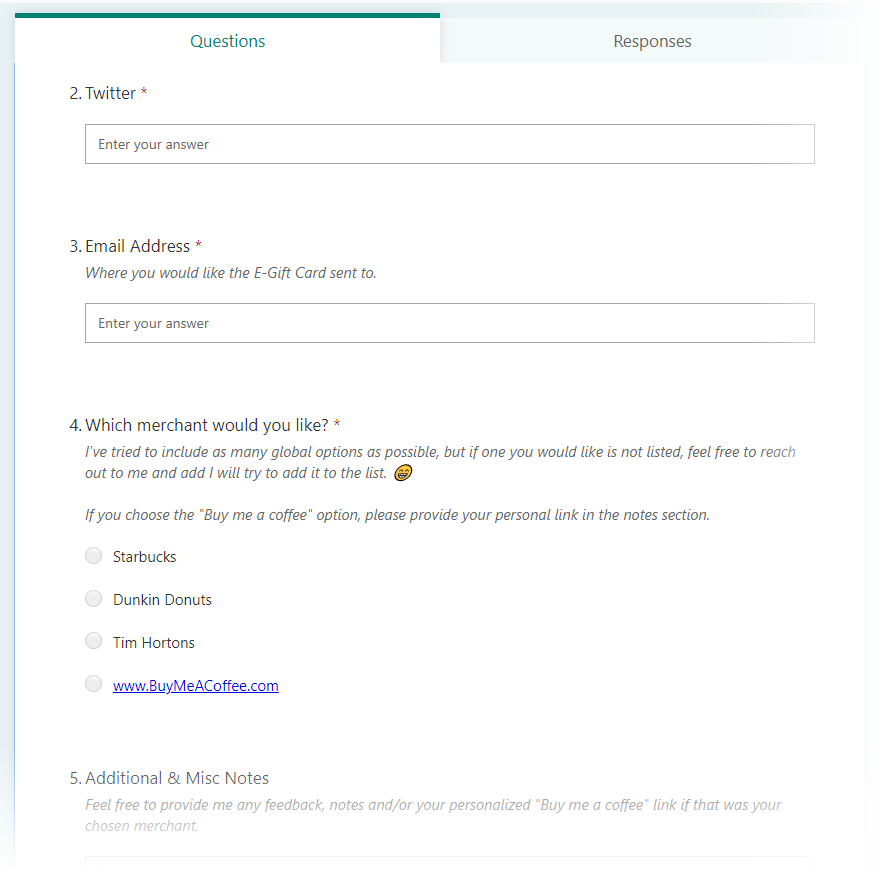 Super easy and I encourage anyone and everyone to try doing the same or something similar. I know it won't make any global impact, but if it even brings an unexpected smile to a community members day, I will call it a win. 🧡💜😁